Proceedings of the ICOM Costume Committee Annual Meeting in London 2017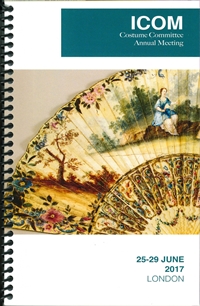 The Narrative Power of Clothes: Proceedings of the ICOM Costume Committee annual meeting, London, 25 – 29 June 2017. ISBN 978-2-491997-18-2

Edited by Johannes Pietsch
The Annual Meeting and Symposium of the ICOM Costume Committee was held 25 – 29 June 2017 in London, England. We were most graciously hosted for an opening reception by Mrs. Helene Alexander at the Fan Museum in Greenwich. The meeting theme, "The Narrative Power of Clothes," elicited stimulating papers and much discussion during an intense three days at the London College of Fashion. On the evening of Tuesday, 27 June, we visited Kensington Palace to view "Enlightened Princesses," curated by Costume Committee member and former chair, Johanna Marschner, "Victoria Revealed," "Diana, Her Fashion Story," and the Royal Ceremonial Dress Collection storage. On the fourth day we visited The School of Historical Dress that houses the Janet Arnold Arcives, and then the Victoria and Albert Museum where we heard a curatorial talk by Cassie Davies-Strodder followed by a visit to the "Balenciaga" exhibition. A one-day post-conference trip to Chatsworth to see the "House Style" exhibition took place on 30 June.
Members of the Board of Officers and the Committee made essential contacts which allowed this 2017 meeting to proceed after the unfortunate cancellation of the Bangkok meeting due to the death of the king. Our thanks must go to Matteo Augello who suggested the London College of Fashion and made the first contact; Johannes Pietsch who made the contact with the School of Historical Dress; and Alexandra Kim who had contacts at the Fan Museum, the Victoria and Albert Museum, Kensington Palace, and contacted Chatsworth and the transportation companies necessary for the post-conference day trip. Through it all Paola Di Trocchio kept sending the e-mails and Meike Koenigstein kept the ICOM Costume Web site up to date. As a result of all of these efforts and more, we had a meeting with 81 attendees, 5 accompanying persons and a program of 46 presentations with 27 countries represented. The committee was able to provide full or partial subventions to nine members.
In these proceedings, you will find a wide range of papers including studies of the clothing of individuals in historical, contemporary and ethnographic contexts; studies of designers and industries related to clothing production; discussions of exhibition processes and conservation issues. It is our hope that they will provide not only a record of the 2017 meeting, but also helpful information to those who are interested in the scholarly activities of the Costume Committee and who, at a future time, might join the Committee and contribute their own expertise to further the field of costume studies within museums.
Jean L. Druesedow
Chair of the ICOM Costume Committee
Content