Final announcement ICOM Costume Award
ICOM Costume Committee is delighted to announce the recipients of the unique ICOM Costume 60th Anniversary Award.
With this unique award, ICOM Costume International Committee is committed to celebrating excellence, innovation and collaboration across our specialism. The Evaluation Committee was impressed with the very high standard of the projects submitted and the unique contributions they have made to the field of fashion and dress history research.

First prize is awarded to Alexandra Palmer, for her publication and associated touring exhibition, Christian Dior: History and Modernity, 1947-57.
The first combined technical and social study of Christian Dior's New Look, this rigorously researched project expanded the possibilities for approaches to fashion scholarship, serving as a model for advancing research in fashion and dress history.
Image credit: Palmyre: Autumn/Winter 1952-1953, Profilée collection, designed by Christian Dior; made in the atelier flou by Germaine; textile by Robert Perrier; embroidery by Ginisty et Quénolle.
Two further awards for highly commended projects are awarded to the China National Silk Museum for their project 'Ming Costume in Memory', and to the Westminster Menswear Archive for 'Invisible Men'.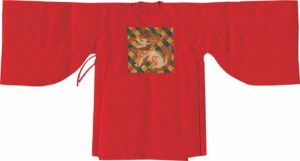 The China National Silk Museum's project encompassed long-term conservation treatment and research into excavated garments from the Ming dynasty and fostered international collaboration with Korean National University of Cultural Heritage (KNU) to expand studies of Ming costume history. This model of advancing academic scholarship through collaboration was judged to be an innovative and forward-looking approach for the development of fashion and dress history research.
Image credit: Reproduction  of Wide Sleeve Robe of Twill Damask with Haechi Badage © China National Silk Museum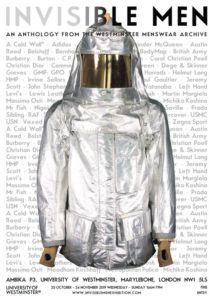 As the largest exhibition of menswear to be staged in the UK, the Westminster Menswear Archive's 'Invisible Men' project in 2019 was uniquely innovative, prefiguring the current concentration on menswear in museum exhibition projects. Their efforts to propose a parity of objects, between workwear, uniforms and designer garments, are especially worthy of recognition for challenging the orthodoxy of dress collections and exhibitions.
Image credit: Westminster Menswear Archive, University of Westminster
The Committee looks forward to celebrating the work of all the applicants at the Award Ceremony at the French Cultural Institute during the General Conference in Prague on Thursday 25th August and hope you will join us in congratulating the award recipients.
To know more about each awarded project
Alexandra Palmer_Christian Dior: History and Modernity, 1947-57
Ming Costume in Memory_China National Silk Museum
Invisible Men exhibition – ICOM Costume 60th Anniversary Award application
Additional selected Projects considered by the Evaluation Committee
HANFU PROJECT
Anhui Museum
This project aimed to promote the exquisite beauty and cultural connotations of Hanfu costume, an important element of traditional Chinese culture, and to improve access to museum collections. Reproductions of Hanfu clothing inspired by Chinese traditional cultural heritage such as 'The Four Treasures of Study', Chinese ink painting and carvings of Huizhou found in Anhui museum's collection, were made from materials ranging from Chinese rice paper to linen and silk. Visitors can rent and to wear these clothes for purposes of study or as a souvenir of their time in the museum, and events such as fashion shows have further disseminated information on these collections and related culture.
Building and Disseminating resources about Fashion and Dress History Languages and Terminologies (the FLATIF project)
Contact: Maria Teresa Zanola, The Observatory of Terminologies and Language Policies – OTPL (Università Cattolica del Sacro Cuore, Milan – Italy)
The FLATIF project brings together the different phases of an innovative methodologicalinvestigation in the field of fashion and dress history. In order to have the most suitable tools for analysing fashion and dress history lexicon and terminology, it is necessary to gather a collection of texts (books, manuals, journals, catalogues, brochures etc.) which will lead to the construction of a reference corpus.The project envisages the creation of a digital portal, consisting of further thematic resources (including digitised texts) and a website reference list, which will make it possible to access a multitude of information that is currently disconnected.