Royal Ontario Museum

TORONTO, CANADA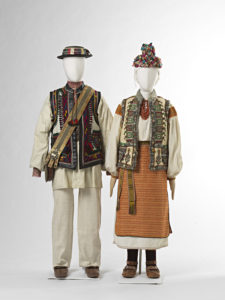 ABOUT THE COLLECTION:
From the 20th century, Canada has been home to the largest community of Ukrainians outside of the Ukraine. The Royal Ontario Museum holds a small but beautiful example of embroideries from the Ukraine. This man and woman's festive outfit is from the Hutsul region of the Carpathian mountains in western Ukraine, shows the distinctive garment types, colours and embroidery stitches of this region, including the man's sheepskin vest and leather bag, which are sometimes studded with bullet casings. The tobivka (bag) would hold a pocket knife, flint, gunpowder, whetstone and sometimes money. Many of the colours, motifs, and techniques that went into the creation of this festive Hutsul outfit embody hope and the vibrant, rich culture of Ukrainian peoples, both past and present.
Sarah Fee Ph.D.
Senior Curator, Global Fashion & Textiles ROM
CAPTION:
Woman's bridal outfit, ROM, Inv. 2019.47.1-8.2. Man's outfit, ROM Inv. 920.33.7, Gift of Reverend P.C. Crath. Man's trousers, ROM Inv. 985.209.1.2, WelyhorskyCollection, Given in memory of Maria Welyhorsky. Man's waistcoat, ROM Inv. 2019.47.9.
The hat, bag, belt and shoes of the man's costume are on loan to the ROM from the Ukrainian Museum of Canada, Ontario Branch.