Publications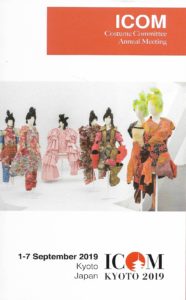 The Museum as a Cultural Hub: The Future of Tradition. Proceedings of the ICOM Costume Committee Annual Meeting, Kyoto, Japan, 1-7 September 2019. ISBN 978-2-491997-16-8
Edited by Jean L. Druesedow
Innovation and Fashion: Proceedings of the ICOM Costume Committee annual meeting, Utrecht, The Netherlands, 10–15 June 2018. ISBN 978-2-491997-17-5
Edited by Elise Breukers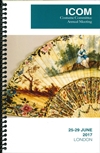 The Narrative Power of Clothes: Proceedings of the ICOM Costume Committee annual meeting, London, 25 – 29 June 2017. ISBN 978-2-491997-18-2
Edited by Johannes Pietsch

Museums and Cultural Landscapes: Proceedings of the ICOM Costume Committee Annual Meeting, Milan, 3-7 July 2016. ISBN 978-2-491997-19-9
Edited by Johannes Pietsch

Exhibitions and Interpretation: Proceedings of the ICOM Costume Committee Annual Meeting, Toronto, 8-13 September 2015. ISBN 978-2-491997-20-5
Edited by Alexandra Kim

Dress and politics : Proceedings of the 2014 annual meeting of the ICOM Costume Committee, Nafplion and Athens, Greece, 7-13 September 2014.
Nafplion : Peloponnesian Folklore Foundation, 2015. ISSN 1108-8400.

Dentelle, mode et transparence. Lace, fashion and transparency.
Bruxelles, 2013. ISBN 9782930423173

Dressing a cool Belgian kid ca. 1660.
Brussels, 2012. ISBN 9788799570508
Edited by Katia Johansen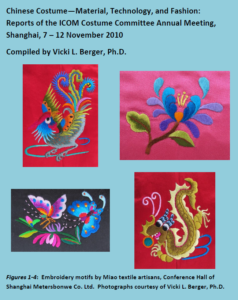 Chinese Costume—Material, Technology, and Fashion: Proceedings of the ICOM Costume Committee Annual Meeting, Shanghai, 7 – 12 November 2010. ISBN 978-2-491997-21-2
Edited by Vicki L. Berger

Proceedings of the ICOM Costume Committee Working Meeting in the Bavarian National Museum, Munich. 7-10 September 2010. ISBN 978-2-491997-23-6
Organisers: Nina Gockerell and Johannes Pietsch
(Picture: "Bayerisches Nationalmuseum – Muenchen – 2013" von Avda/Wikipedia)


In Between. Culture of Dress between the East and the West.
Belgrade, 2012. ISBN 978-86-7891-061-6




Fashion and Cultural Heritage.
Seoul, 2004.
Edited by Dr Heungsook Grace Chung and Dr Key Sook Geum, Korean Society of
Costume.

Crossroads of Costume and Textiles in Poland.
Cracow, 2006.
Edited by Beata Biedronska-Slota and Monika Myszkiewicz.

Peloponnesian Folklore Foundation Report of the 53rd annual meeting of the Costume Committee of the ICOM.
Nafplion, 2001.
Edited by Ioanna Papantoniou.

Costume trends: Display, dissemination and interpretation of Information. Proceedings from the Annual Meeting of ICOM Costume Committee.
Prague, 1996.

Aspects of Costume. The Nineteenth Century: Selected papers from the ICOM Costume Committee meeting, Budapest, Hungary, 1990.
Budapest, 1991.
Edited by Katalin Foldi-Dowza.