Proceedings of the ICOM Costume Committee Annual Meeting in Shanghai 2010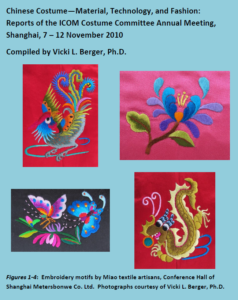 Chinese Costume—Material, Technology, and Fashion: Proceedings of the ICOM Costume Committee Annual Meeting, Shanghai, China, 7 – 12 November 2010. ISBN 978-2-491997-21-2
Edited by Vicki L. Berger
Dear Colleagues and Friends,
On November 9, 2010, members of the ICOM Costume Committee and the
Costume Committee of the Chinese Association of Museums, met at the
headquarters of sponsor Shanghai Metersbonwe Corporation Ltd., China's
leading casual wear apparel company. As we entered the lobby of the
headquarters building, we enjoyed a demonstration of textile arts by Miao
textile artisans. During the day, we shared presentations, toured the corporate
costume museum, sipped tea, and were treated to delicious food.
Twenty-three presentations were scheduled for the Academic Seminar, nine of
them from ICOM Costume Committee members. As the schedule was tightly
packed, our instructions were to present a five-minute power point report of
interest to our Chinese hosts. Volunteers from the audience provided
impromptu sequential translation from English to Chinese.
I would like to thank Jan Loverin, Jean L. Druesedow, Katia Johansen, and Isabel
Alvarado Perales for retrieving their notes from that day, and sharing them, as
well as, Brigitte Herrbach-Schmidt, for moderating our section of the
presentations and submitting photographs. Thanks to Roger Berger for
formatting this brief publication. The Academic Seminar was a unique
opportunity to interact with our Chinese hosts and share Chinese costume
highlights from our own museum collections.
Sincerely,
Vicki L. Berger, Ph.D.
Editor
Content
From China to Chile: Chinese Objects in the Museo Historico Nacional Collection
by Isabel Alvarado Perales
Tales Told in Embroidery
by Jean L. Druesedow
Journeys from China to Nevada: Three Chinesse Costumes
by Vicky L. Berger
Two Chinese Dolls in a Cabinet: Rosenborg Castle, Copenhagen
by Katia Johansen