The Power of Lace: Lace – Art – Garment at the Museum of Decorative Arts, Prague.
The Museum of Decorative Arts in Prague has systematically and for many years worked on lace as a unique phenomenon in Czech applied and fine art. This is also why we want to highlight lace at an international forum to be held as part of the ICOM General Conference in 2022. The exhibiton will be open until 11. 9. 2022
Three different ways of viewing the phenomenon of lace intersect at the exhibition: lace as clothing, lace as fine art, and lace as visual inspiration in the work of contemporary artists. There are 23 exhibits in total, presented in a striking installation by Pavel Mrkus, to a soundtrack by K.L.A.R.A., and in collaboration with the graphic studio Monsters.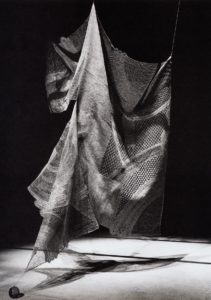 The Power of Lace: Lace – Art – Garment
Lace and Dress
Today lace is considered a more or less marginal genre in art, yet it still retains its exclusive role as a guide to modern Europeans' social destinies, and its delicate construction and subtle expressiveness make it an eloquent symbol of the individual human mind, social life and dress. It is difficult to establish precisely when lace first appeared, but we are certain that it originated in prosperous centers of the European continent such as Venice, Flanders and France.
During the 16th century, when the Renaissance lifestyle brought with it a new attitude to the human body and by extension to fashion, technology was developed that allowed this unique and luxurious accessory to blossom.
Lace production extended throughout Europe and a considerable variety of lace was made, with highly elaborate pieces alongside lace of a more modest appearance. In the 19th century, the advent of machine-made lace initially thought to exemplify bad taste and decadence brought a fundamental change. Machine lace subsequently became acceptable, and handmade lace became an exclusive artistic concern.
In the wake of World War One women's new status in society precipitated a revolution in women's fashion, and lace was used for formal wear. After the Second World War lace was again incorporated into opulent evening dresses. In the 1960s it may have seemed that lace had no place in the world of miniskirts and women's trousers, but things turned out rather differently. There was a slight revival of interest over the following two decades before lace returned to women's fashion in full force in the 1990s. Since then its popularity has not diminished but has been sustained until the present day.
Featured designers: Zdena Bauerová / Eva Fialová, Jiří Adámek (ÚBOK), Daniela Fjelšarová / Eva Janoušková (E.daniely), Ilona Zárubová / Miroslava Mašindová (mi.design), Martina Nevařilová (NAVARILA), Monika Drápalová (Modrá), Zuzana Kubíčková
Lace Sculptures
In Czechoslovakia in the 1920s textiles became part of an avant-garde cultural ideology in the process of consolidating a sense of national identity. In subsequent years works were made in fabrics, including lace, which is rightly considered to have laid the foundations for 20th-century Czech textile art. Many of them were acclaimed at the World Expos held in Paris (1925), Brussels (1935), and New York (1938).
After World War Two textile art in this country, as in other countries, became closer to fine art. As well as the flourishing disciplines of artist tapestry and textile design, in the late 1950s, the concept of lace began to change radically. Its traditional function was entirely abandoned and lace became something monumental and three-dimensional. This new view of lace as an art form, together with impeccable knowledge of classic lacemaking techniques, inspired the prolific work of three generations of female artists in Czechoslovakia. Their contribution to the development of lacemaking around the world was again confirmed by the prizes they won at many international exhibitions, including the International Lace Biennale held in Brussels between 1981 and 2005.
Featured artists: Ljuba Krejčí, Marie Vaňková – Kuchyňková, Vlasta Šolcová, Ludmila Kaprasová, Milča Eremiášová, Emilie Frydecká, Jana Slámová, Blanka Šperková, Jitka Štenclová, Mária Danielová
In the New Millennium
The remarkable development of Czech lace as a distinctive artifact came to a close at the beginning of the new millennium, when it seemed that the options for using classic lacemaking techniques in fine art had been exhausted. One reason may be the ongoing move away from the official classification of artistic disciplines according to materials, techniques, and applications.
Lace has begun to be perceived in the context of the contemporary visual language we see in the effects of light in city streets, elements of architecture, structural systems, natural forms, imaginary networks of relationships, and abstract mathematical questions.
Curator: Konstantina Hlaváčková
Exhibition design: Pavel Mrkus
Graphic design: Monsters – Michaela Lubudová, Pavel Frič
Featured artists: Václav Krůček, Čestmír Suška, Pavel Mrkus
To see more images of exhibited works, please check the Museum´s website